You are walking the Christian life and you are realizing that this religion thing is consuming more of your life than you imagined. You never expected it to come this far but at the same time you can't turn away.
There is a phrase on your heart: Put God First.
What does it mean to put God first? And how do you do it? What does one get if you put God first?
I believe the result of putting God first is a life on fire. You are already experiencing the flames of his love. To go through the whole journey is to live a life of true passion.
Here's what it means to put God first.
The Demand of God Being First
God has always wanted to be first
On the journey of putting God first, you have to realize that this is not an idea that originated from people. It is a journey that God himself wants of us.
The expectation started at the beginning of the Bible. God has just done a mighty deliverance of the Israelites from the land of Egypt. They are now on the way to the promised land and God is training, grooming, and instructing them to what kind of people he wants them to be.
When God called the Israelites to follow him, he gave them a lot of laws to follow. There are laws about possessions, finances, worship services, even how you should spend your days. But thankfully, he summed it up nicely.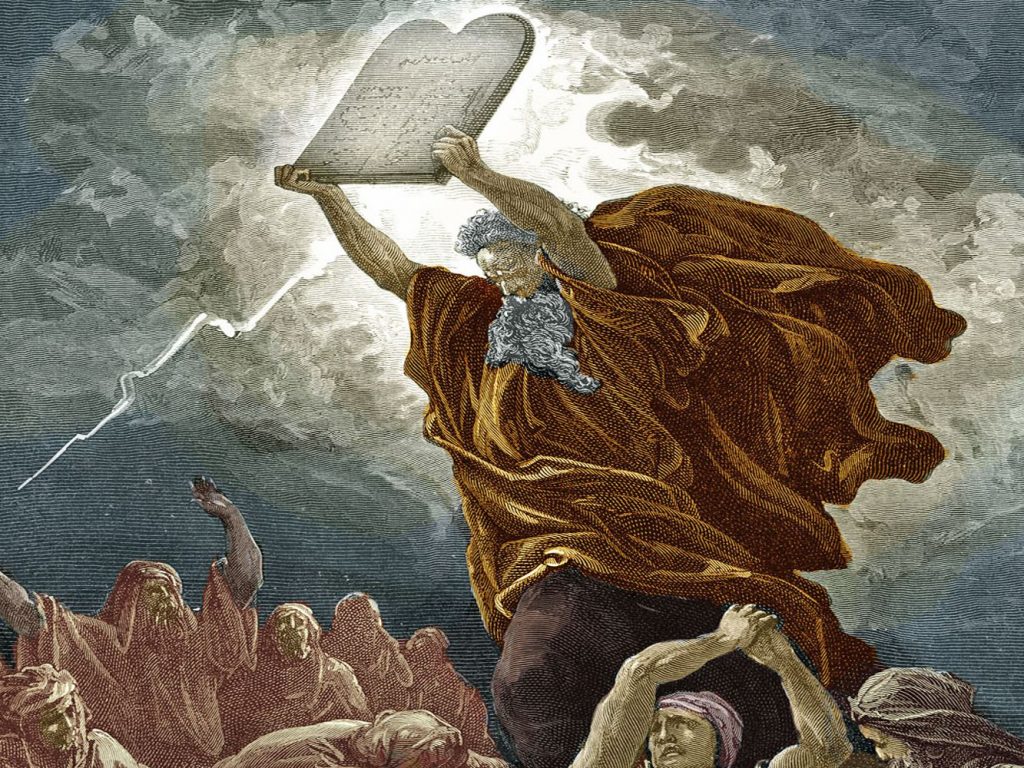 Towards the end of when God gave Moses the law to the people, he summarizes the call:
You shall love the LORD your God with all your heart, with all your soul, and with all your strength.

Deuteronomy 6:5
The demand is so great! He is asking that they not only follow him with lip service and with their actions, but he wants all their heart, all their soul, and all their strength.
Following God is life-consuming task. He is not wanting to just be a sidepiece. He is wanting to be front and center.
Jesus Calls us Again to Put Him First
Jesus enters the scene in the New Testament. The people are thrilled because they see Jesus as a relief from the laborious relationship with the law.
As he is performing miracle after miracle, he is drawing a crowd. He is having fandom and stardom now. Yet Jesus is not interested in the casual fan. He is wanting and demanding more from the thousands that have chosen to follow him.
In Luke 9, he gives a beckoning call to all who are following him:
And he said to all, "If anyone would come after me, let him deny himself and take up his cross daily and follow me. For whoever would save his life will lose it, but whoever loses his life for my sake will save it.

Luke 9:23-24
He is saying that anyone that chooses to follow him needs to deny themselves. In other words, in the priorities of ones life, everything gets shifted to the back compared to the task of following Jesus.
They are to deny their desires, their dreams, their ways of thinking. Jesus is calling for full surrender. He is calling for place of first in our lives.
He reiterates this further with this hallowing demand:
"If anyone comes to me and does not hate his own father and mother and wife and children and brothers and sisters, yes, and even his own life, he cannot be my disciple.

Luke 14:26
He is saying that whoever doesn't hate his own family can't be his disciple. People wonder why Jesus, who called us to love, would ever command us to hate everything, even our own family.
Yet the point isn't that we would would hate them. The point is that our love for Him so far exceeds everything else in our lives that the gap between first and second is such that it feels like we hate everything else.
Jesus is not calling us to put him first barely. He is calling us to love him first completely. In a world of casual religious observation, Jesus' call for us should haunt us.
Yet we are not to be met with despondence. Nor is the call of putting God first one of malaise and depression.
The Joy of Putting God First
When people hear that God is calling so much of their lives, people hesitate and even walk away. This happened in John when Jesus just instructed that he was the bread of life.
John 6 records:
After this many of his disciples turned back and no longer walked with him. So Jesus said to the twelve, "Do you want to go away as well?"
People often see the demands of Jesus of putting God first and stop the journey right away. Yet in doing so, they are missing the point of putting God first.
Jesus' parable on the kingdom of God explains this well:
The Parable of the Hidden Treasure

"The kingdom of heaven is like treasure hidden in a field, which a man found and covered up. Then in his joy he goes and sells all that he has and buys that field.
Matthew 13
In the parable, he talks about a person who finds a treasure hidden in a field. After seeing its worth, he realizes that everything else he owns is worthless.
In joy, he sells everything else in order to find it.
The beautiful parable is about what happens when someone discovers the kingdom of God. They see the worthlessness of everything else in their lives and gladly choose God's kingdom.
It is not a hatred for other things; it is a captivation of everything that God offers.
The thing that people who walk away when God demands more of their lives is this: When God demands more; he is wanting to give more.
Read about Living from Pleasure, Not Conviction
He is wanting to be a Father who takes away our mud pies and instead gives us the feast of our lives. Yes, putting God first demands and takes our entire lives. But putting God first means that we are living the fullest and most joyful life.
There is no treasure, no joy, no experience, no award, no achievement you can achieve in this life that will ever compare to the life that God wants to give you. However to give it to you, your hands must be empty.
Putting God first means to empty the things we are holding in our lives and wait expectedly for the greatest things coming our way! Putting God first is all about joy.
The Journey of Putting God First
Based on your experience of churches, sometimes it feels like putting God first feels like a one time decision.
You may be like me, who in various services ran to the front of the altar, knees to the ground declaring that God be first. Yet a few years later, it seems that everything else in my life seems is contrary to that moment.
It is important to understand that putting God first is not a decision; it is a journey. We have to understand the mechanics of spiritual transformation as described in the Bible.
Paul the Apostle recognizes this and writes this to describe the Christian journey:
Now the Lord is the Spirit, and where the Spirit of the Lord is, there is freedom. And we all, with unveiled face, beholding the glory of the Lord, are being transformed into the same image from one degree of glory to another. For this comes from the Lord who is the Spirit.

2 Cor 3:17-18
He describes the Christian life as this transformative process where the person is going from one degree of glory to another. He sees the evolution of the Christian. The evolution is the evolution towards Christlikeness.
At the core of our humanity is the reality that we were made in the image of God. Part of God's redemptive journey is reclaiming this image in us so that God's stamp in us can be revealed.
What that means is that putting God first is a journey.
And if you stumble along the way – don't be discouraged! Surrendering before God happens over and over and over and over again. Even as you're reading this, you can surrender parts of your life to God.
If our lives is like a house, and at one point in our lives we surrendered everything, that surrender is valid. However, as life moves, the contents in our houses shift and change over time. We switch jobs, we switch relationships, we switch locations, etc.
What that means is that surrender is a constant process. And putting God first is a seasonal choice we can and should make.
The Practice of Putting God First: 4 Ways
Let's talk about how to practically put God first both now, and over time
The Posture of Putting God First
If you've never put God first in your life, this is what I recommend:
Get on your knees before God and just pray before him that you want him first in your life.
The journey of putting God first starts with initial surrender. In the journey of transformation, he requires our permission and cooperation to having his words and truth consume and take over out lives.
This posture is the invitation for God's Holy Spirit to begin his transformative work in our lives.
Start Every Day With Him
Every day, when I first wake up, my first hour is given to spending time with God.
As humans, we are victims of living life on autopilot. If you are waking up and just going about your day, you will be a slave to your schedule and the needs of those around you.
However, to start your day with God means to position the compass of your life correctly such that the word and the voice of God is deposited in your heart to guide you the rest of the day.
If your life can be broken up into the days we live, then starting each day surrendered before God extrapolates to a life that puts God first.
My routine always involve some combination of worshiping him, journaling, praying, and reading the Bible. It is a dynamic time where I hear God's voice for my life, receive his strength for the day, and get his direction so that my day is not lost.
Read about 2 Things That Have Helped Me When I Spend Time with God
Jump Start your journaling with Journaling for Spiritual Transformation
Start every day with God to put him first.
End Every Day with Him
To put God first in your life, sandwich your day by taking time to end your day with him.
It allows you to constructively ask, "Did I live a life surrendered before God today? Did I put God first in all my thinking, feeling, and doing?"
Give thanks, ask for help, end your day with him so that the sandwich of the day is properly marinated with his presence.
Walk in Fellowship with Those who Put God First
Show me who your five friends are; I'll show you where you'll be in five years.
That is a powerful statement about the power of who we choose to surround ourselves with. This is why the Bible is so adamant about the power of gathering together and being in God's presence together.
Hebrews writes:
And let us not neglect our meeting together, as some people do, but encourage one another, especially now that the day of his return is drawing near.

Hebrews 10:25
He sees the danger of walking alone in the Christian life. God designed us to be his body where everyone is dependent on each other.
If you want to live a life where God is first, then surround yourself with people who desire to put God first as well. God will dynamically speak to them, encourage them, as he speaks to you and encourages you.
Do not run the race of following God alone. Surround yourself with people who love God and want to put him first and you'll find that you'll be on the same path.
Going Deeper
My joy and the aim of this site is to help readers go deeper in their Christian faith.
I want you to have the joy of going deeper in your walk with God and in your journey of discipleship.
Books
A book I highly recommend on this topic is reading The Cost of Discipleship (link to Amazon). When I first read this book, it wrecked my life and gave me a solid vision for what it means to follow God and to put him first.
I hope that as you put God first in your life you will live a life on FIRE.
How does this help you on your journey of putting God first? Leave your questions and comments in the comments below!